It's All in the Bag
Mood:
mischievious
Now Playing: Louis Vuitton Mongram Aquarelle Speedy Bag
Topic: Beauty Thoughts & Reviews
I am not a fan, in general, of Louis Vuittion bags or leather goods. I don't like the coloring of the brown with the gold initials. It's an icky poop-brown color. As the LV logo has become synomous with luxury goods, I've also come to loathe any bag or fashion item with logos emblazoned across it. It's a little tacky, and makes the wearer seem like an attention-starved braggart. Look at me, I'm carrying Louis Vuittion. With that said, I did have a severe fascination with the Murakami LV bags a few seasons ago.
I longed for them and scoured the streets and internet for the Cherry Blossom Murakami semi-perfect replica (a.k.a fake or the less illegal-sounding "inspired by") bag. I loved the whimsy of the red cheeries and pink smiley faces on white leather, or in my case, pleather. I still own XOXO imitation that I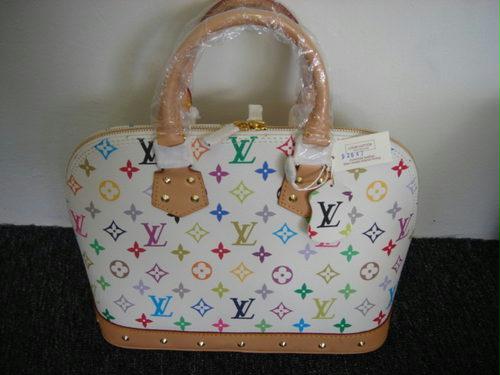 bought five years ago. It hangs in my closet to remind of one of my most series fashion quests and follies. It's too small to carry my everyday essentials, so I mostly just pull it out on Easter Sunday to go to church. Soon, I'm sure, my two daughters will be playing dress up with it as I played dress up with my grandma's retro (and surprisngly sturdy!) handbags from the 40s and 50s.
There is a new Louis Vuitton bag with pastel colored LV logos smudged and silkscreened on white canvas was designed by artist Richard Prince in collaboration with LV artistic director, Marc Jacobs. The handles and the frame are painted beautiful raspberry color. (The handle is genuine snakeskin.) It is delicate yet sturdy looking, and designed to dangle from the crook of your elbow. It's playful yet not as frivilous as the Murakami bags. It also costs $3,600 and there are no pictures available on the internet. (I suspect that is to help protect from being copied and bootlegged.) However, if you pick up a copy of the January 2008 issue of Allure magazine you'll be able to see a great picture of it on page 71. Harper's Bazaar also has a picture in its most recent issue.
I've found my latest fashion accessory obssession. Sweatshop workers and victims of terrorismm, please forgive me for buying faux. Maybe XOXO will have a nice inspired-by come spring.
---
The name of the bag is the Mongoram Aquarelle Speedy Bag. Below is a picture of other LV Speedy bags.