Won Over By Makeovers
Mood:
cool
Now Playing: Making Over America with Trinny and Susannah
Topic: TV: The Soft Blue Glow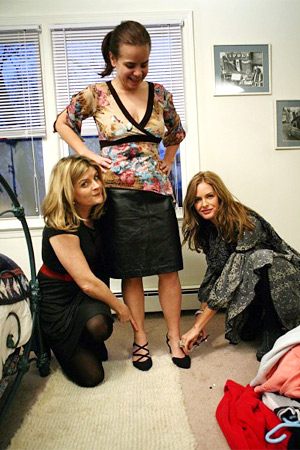 I love televised makeovers. I loved them when they had stylists remake audience members on the Ricki Lake and the Jenny Jones shows. So when the makeover became a whole genre of reality television, I was right there with the exception of Extreme Makeover. TLC has cornered the market on making folks over although I do get a kick out of Jay Manuel's celebrity look-alike makeover show on the Style Network (Style Her Famous). I'm very loyal to The Learning Channel and there's not a Friday night when I'm not watching What Not to Wear. I was also big fans of 10 Years Younger (with all their hosts); and Cover Shot. Now, TLC has added a new contender to the stable. It's Making Over America with Trinny and Susannah.
Some may know Trinny and Susannah as the hosts of the original What Not to Wear, which they created in the United Kingdom. Over the years, they have created quite a styling empire with books and television appearances. Now they are taking a stab at their first American stateside series, where they travel from state to state in a trailer to help those trapped by bad fashion choices.
After just watching the first episode, I am convinced that this is now my favorite makeover show even above What Not to Wear with Clinton and Stacy. Trinny and Susannah may come off as intimidating, but they show us they are as real as you and I by the end of the show. They reveal their stretch marks, lumps, and bumps to those they are trying to help to prove that anyone can look great with the correct foundation garments, confidence and well-fitting clothes.
Along with fashion advice, Susannah and Trinny give a good dose of tough and body confidence-building lessons. There are no hidden cameras, there's no one making fun of you, and there are no flights to major metropolises. Trinny and Susannah encourage the women to look at themselves in a new light, and to dress in a way that's flattering at the stores in their area.
The only thing that is slightly off-putting is that Trinny and Susannah are very touchy-grabby. In the premiere epi, they grab makeover contestant Jennifer's bottom to show her how voluptuous and sexy it is. They also cup one of her breasts to demonstrate how poorly her bra is fitting. I'm sorry. I don't want two strangers grabbing my bum on national TV no matter how great they think my ass is.

I will be setting the DVR for this show, though. Check it out and let me know what you think.