This ELF is Better Than the Ones That Work for Santa
Mood:
rushed
Now Playing: E.L.F. 32 Eye Shadow Palette and Eye Primer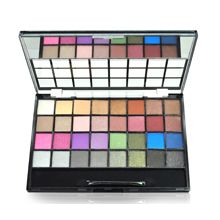 I've been a bit on a mini-spending spree. Something about money being tight makes me want to spend more rather than less. My attitude is better get stuff now before I don't have any more money to get anything. I try not to get too silly or exorbitant with my spending, but to find something that is expensive and will bring me joy. This, ladies and gentlemen, is where E.L.F. (Eyes Lips Face) Cosmetices comes into the picture. Besides the awesomely inexpensive prices, they also have really excellent coupon codes and deals.
Here's a tip, follow their blog!If you're one of the first 25 blog registrants to post a comment to a story, you'll score a $5-off coupon. Depending on what you buy, it's almost like getting a free piece of a make-up. This is what I experienced last week when I scored this mini eye shadow palette filled with an array of 32 colors. It is only $5 although it looks even more expensive. The case sleek and black, and contains a mirror that's perfect for at your desk touch-ups. It's also very light and slim. It fits into my handbag without adding bulk.
On my bare eye, the shadow lasted about four hours before creasing since I have oily eyelids. If I had used a primer or base, I'm sure I could have eked out another couple of hours. The colors are bit darker than they appear in the palette so don't be too heavy handed. Also, ditch the eye shadow brush included and use one of your own. (I recommend Smashbox's Crease Brush #10 or E.L.F.'s All Over Eyeshadow Brush.)
I also recommend using it over their $1 primer. I did a skin test on my inner wrist and it lasted for hours, even after I washed the dishes. Imagine how it will handle the shadow. Go on, splurge yourself for a little money. If you spend $10 by October 25, you'll receive a free E.L.F. Studio 27 Piece Mini Make-up collection that contains 9 eyeshadow shades, 1 cream eyeshadow shade, 1 blush, 1 bronzer, 10 lip gloss shades, 1 brow powder, 1 eye liner pencil, 1 dual ended eyeshadow applicator and brush, 1 face brush and 1 lip brush. The hardest part of this offer is figuring out how to accumulate at least $10 worth of products since the prices are so damn low. lol. (I'm thinking about their translucent studio HD powder, $6, and another eye shadow palette for Christmas presents.)