A Gangster's Rise and A Gangster's Fall
Mood:
hug me
Now Playing: American Gangster
Topic: Movie Reviews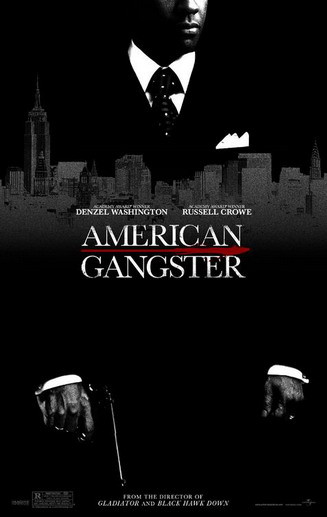 American Gangster is such an engaging drama that I hardly noticed its 2.5hour length. It's a good-paced and well-acted movie. It's no Oscar contender, but it is a good film. Denzel Washington's portrayl of uber-gangster Frank Lucas was well-played and subtly acted. In some scenes, it could have been easy for him to go over-the-top like Al Pacino in Scarface. Russell Crowe's was great as the scrappy New Jersey cop trying to bring down Harlem's drug kingpin. Russell's performance was also surprisingly low-key. It also made me re-realize how sexyRussell Crowe compared to the other pretty-boy leading men.

Josh Brolin stands out as the dirty and flashy New York City cop on the take. In a scene where she confronts her son about his dirty business, Ruby Dee is powerful and steals the limelight as Frank Lucas' mother. In his brief role as rival drug czar Nicky Barnes, Cuba Gooding Jr. acts against type. It made me want to see more of him.
The violence, blood and gore are minimum, and the cameos are maximum! The RZA from the Wu Tang Clan appears as cop! Recently arrested rapper T.I. is as an up-and-coming pitcher turned drug distributor. Although Lucas ended up imprisoned for 15 years, losing his wife and his fortune, many wanna-be real life gangsters will treat American Gangster as the new criminal primer.