My Philosophy? Treat Others Like You Want to Be Treated
Mood:
blue
Now Playing: Philosophy Skincare Giveaway at The Fashionable Housewife
Topic: Contests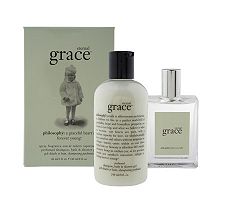 Dear Followers,
As most of you know, I love entering contests; answering surveys; and giving reviews. Basically, anything where I can get something for free! Most of the time, I'm entering for products I don't know much about or have not previously used. Not this time. One of my fav blogs, The Fashionable Housewife, is having a Philosophy Skin Care QVC Giveaway worth approximately $80.
I have been a fan of Philosophy for at least a decade. They made one of the moisturizing lip balms I ever used, and they have deliciously scented body washes. (I was a fun of the gingerbread body wash.) I am also a huge of QVC. I watch it with the same regularity that people watch the news. (*SMH* I know, I know.) With that said, it would really please me to win this giveaway. If not me, than you. (I only say that half-heartedly because I REALLY WANT TO WIN. LOL.)
So....
As part of The Fashionable Housewife's Philosophy celebration, they are giving away the Philosophy Eternal Grace spray fragrance & shower gel duo
($45) and Philosophy Your Best Skin 3pc skincare classics collection
($35). So why don't you head on over and enter at: http://bit.ly/philosophyqvc
Good luck!