Wrapping Up 2009: The Year that Was
Mood:
chillin'
Now Playing: 2009: The Year That Was
As we are about to finish off the penultimate year of the first decade of the new millennium (wrap your mind around that sentence, lol), I thought it only appropiate that I throw in my two cents about some of the biggest pop culture stories of 2009. What did I miss? What would you add? Let moi know. ~~Kiki
1. The Death That Stopped the World: Michael Jackson's death stunned the world and froze the internet. The world forgot about the freak show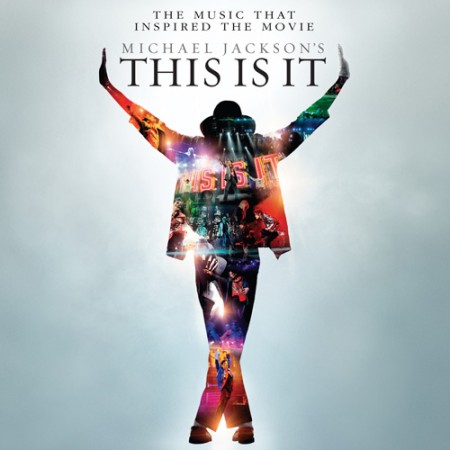 that the paparazzi and the tabloids created, and remembered Michael as the consummate performer he was. He gave us nearly four decades of music, and touched people from many generations, races, and creeds. He was the greatest entertainer of our lifetime, and you can see his influences in every boy band member and solo male artist who dared to combine song and dance on stage.
2. Chris Brown v. Rihanna: R&B singer Chris Brown beats the shit out of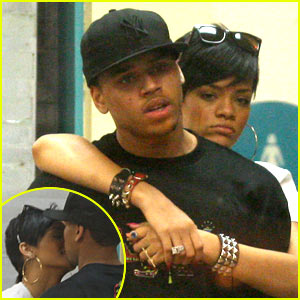 Rihanna. They get back together, and then they break up. Chris Brown gets parole and community service, and does a half-hearted apology tour. Rihanna waits for 9-months, and answers all questions on 20/20—the fear still real in eyes as she describes the night's events. Surprising reaction? Young women polled in several surveys across the country side with Chris Brown by saying that Rihanna provoked the beating.
3. The Academy Awards Take A Chance:
A charming and charismatic Hugh Jackman helps shake up the awards ceremony with tongue-in-cheek dance routines.
Previous Oscar winners present the names of the nominees. Even with the changes, the show still drags pass the 3 hour point. On the positive side, Heath Ledger receives a posthumous Oscar for his role as the Joker in
The Dark Knight Returns
, and
Slumdog Millionaire
brings color and life the show as they take home the best picture statuette.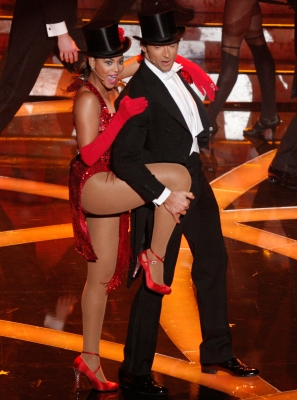 4. The Good Song About Being Bad: The surprising song of the year was Blame It by Jamie Foxx and T-Pain, which encouraged women to act out their hidden desires and then to "Blame It" on the alcohol. It was a catchy, danceable, and made everyone want to go to the club and throw back a shot. Not to mention, having Ron Howard in the video popping bottles of champagne with video girls was priceless.
5. Celebrity Deaths Took Their Tolls on Us: They made us laugh, cry, swoon, dance, sing, chuckle or think. They made us reach for a dictionary, a guitar, a camera, microphone, a paintbrush or a book. This year gave the world some of the most shocking celebrity/notable deaths. Some were expected, and some were unexpected. Here, in no particular order, are some of those who passed away in 2009: Farrah Fawcett, Edward "Ted" Kennedy, John Hughes, Ed McMahon, Brittany Murphy, Walter Cronkite, Patrick McGoohan, Ricardo Montalban, Patrick Swayze, Bea Arthur, David Carradine, Natasha Richardson, Stephen Gately, Andrew Wyeth, William Safire, Mary Travers, Robert Novak, Les Paul, Frank McCourt, Karl Malden, Soupy Sales, Chris Henry, Steve McNair, Eunice Shriver, John Hope Franklin, Claude Levi-Strauss, and Chuck Daly.
6. Kanye, He So Crazy: *Sigh* What can we say about Kanye West? Kanye, drunk and probably a little nutso, interrupted Taylor Swift's speech on the MTV Video Music Awards. There were a whole lot of racial undertones in the criticism he received, but I won't delve into it. Let's just say to Kanye: "Everyone has seen you, Mr. West. Now, it's time for you to just sit your ass down."
7. Black, African or White, He's Our President: President Barak Obama becomes the United States' first African-American president, and immediately the world starts to think of us favorably again. He delivers an economic stimulus plan within his first few months, and is currently trying to get a health reform bill pushed through the end of 2009. Love him or hate him, he's trying to get things done. His lovely wife, Michelle Obama, is hailed for her egalitarian high-low fashion tastes; her intellect; and bringing new duties to the title of First Lady.
8. Pulling the Wool off Women's Eyes: Comedian and radio personality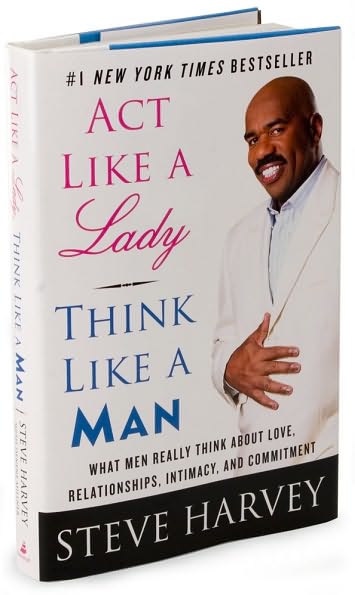 Steve Harvey becomes the latest relationship guru with his runaway hit book "Act Like a Lady, Think Like a Man." Harvey starts to appear on The Oprah Show, Good Morning America, and the View to give women love life advice. He's also earned a relationship advice column in Essence magazine.
9. Can I Have A Sidepiece with This Wife: South Carolina governor Mark Sanford, David Letterman, and Eldrick "Tiger" Woods admit to unsavory sexual affairs. Mark Sanford ran off to Argentina with his lady love, while everyone thought he was in the Appalachian mountains. (His wife filed for divorce, but he avoided impeachment and is still governor.) Letterman admitted to his wrong doings on the air to foil a blackmail plot. Finally, there's Tiger, who just has lovers falling out of the tree. Reportedly, right now, the number stands at 13.
10. The Year of the Comebacks: Whitney Houston, Maxwell, Eminem, Michael Vick, Mickey Rourke, and brown bag lunches.