Getting to the Sole of my Habit
Mood:
happy
Now Playing: My Growing Shoe Collection
Topic: Beauty Thoughts & Reviews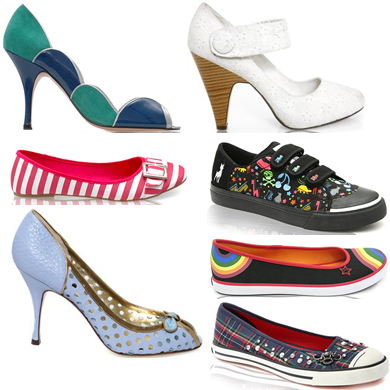 I think I may have a problem. It started when I was 16 years-old, and I was allowed to start buying my own school clothes. I started buying cute shoes. They were a pair of black patent pointy-toed flats with a black & white polka dot bows on the front. It was very 1989. It got a lot of compliments. I wore them on my 17th birthday although it was raining buckets. The shoe beast was born!
During my freshmen year of college, I had a part-time job where I made $70 every two weeks. I'd buy two weeks of tokens for $20; $5 lunch for the day;

a cassette tape or casi-single from Tower Records ($8) or a mix-tape from the street ($5); and a pair of shoes on sale from Fayva—my cheap shoe haven until Payless Shoe Source started popping up. (Sometimes I went to some of the junior chain stores like Rainbow Shops, Strawberry, and Joyce Leslie.) Some of the shoes were cute. Some of them were functional. Some of them hurt my feet. Didn't matter, because I had new shoes.
As I got older and started making more money, I continued to buy shoes. They were a little more fashionable; a little more expensive; and a little more comfortable. When my self-esteem was low and my weight was up, I could always buy a new pair of shoes. Shoes always fit. Shoes never made me look or feel fat. Some women color their hair, and others buy lipstick. My picker-upper is shoes.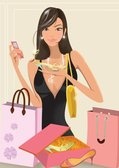 I'm an equal opportunity shoe whore. I'll buy from department stores, chain stores, discount stores, and 99-cent stores. I'll take barely worn shoes from sister-in-laws; friends; family and co-workers. A new pair of shoes is the bomb if they are cute, they fit, and they're FREE!!! I've even won a pair of shoes from Us Magazine—Dr. Scholl's famous exercise sandals.
My love affair with shoes is 20-years strong and a source of comic fodder for my family. My grandmother calls me Imelda Marcos. My husband laughs at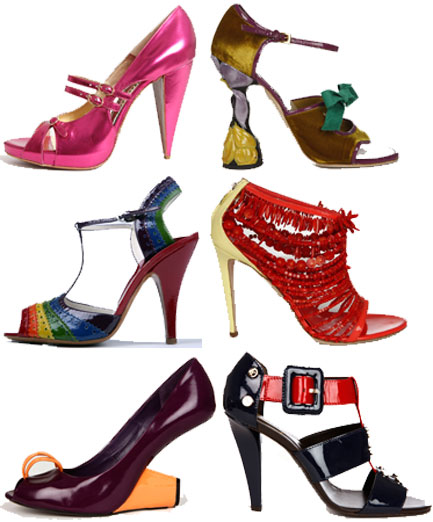 my desire to have a $1 million shopping spree at DSW (Designer Shoe Warehouse). But, my girls love my shoes. They love to play with them, wear them during dress up, and sometimes chose shoes for me to wear. My favorite thing is when I buy a new pair of shoes (or boots), and my oldest daughter sees them for the first time. She will squeal with delight, the only way a 4-year-old can, and say "Mommy, they're boooooty-full." (She will say that even if it is a simple pair of thongs.)
Recently, I answered a poll question on blog about how many shoes did I own. I counted in my head, sure that I was accurate, and came up with 50-pairs of shoes. Then early this week, the rod in my closet broke and I had to clean up and reorganize my closet. I found 3 more pairs of shoes that I had forgotten I had. This morning, I dug in my big plastic bin of summer shoes to grab a pair of sandals to celebrate the warm weather. In it, I found two more pairs of shoes that I had forgotten I owned. WOW! Within a week, I had found five pairs of shoes. Just as I was lamenting that I didn't have enough money to raid the latest Payless BOGO (buy one, get one 50% off) sale and indulge in their new eco-friendly line, I discover 5 new pairs of shoes.
How fortunate? Am I fortunate?
I suppose I am fortunate because some people don't have any shoes. But then again, maybe I am a bit unfortunate. Don't laugh. The people who work at Payless have to eat too.
The Shoe Count:
12 pairs of boots: 3 leather-esque knee high; 3 pairs of faux Uggs; 1 pair of wellies; 2 pairs of ankle boots; 1 pair of Timberlands; 1 pair of snow boots; and 1 pair of faux suede boots. (And I still want the quintessential pair equestrian boots.)
11 pairs of flats: 2 lace-up oxfords; 4 pairs of nursing clogs/faux Crocs; 1 pair of patent leopard print peep toe; 1 pair of pink pointy toe; 2 ballet flats; and 1 pair of UNC blue sneaker mules
6 pairs of sneakers: 2 pairs of trainers; 1 ath-leisure; and 3 pairs of "skips" (and planning to buy 2 more!).
6 pairs of heels: 1 red; 1 camel; 2 black; and 1 stripper pair (6 inch heels!)
13 pairs of sandals: 1 novelty pair; 2 heeled; 1 wedge; 2 Birkenstocks; 5 flat pairs; 1 flip-flop; and 1 gladiator (which I'm looking to update)
Wow, that's damn near 60 pairs and I'm not even counting my "house shoes." Boy, I was off in my original estimation. Perhaps it is time for me to chill. Do I really need more? No. Do I really want more? HELL YES!